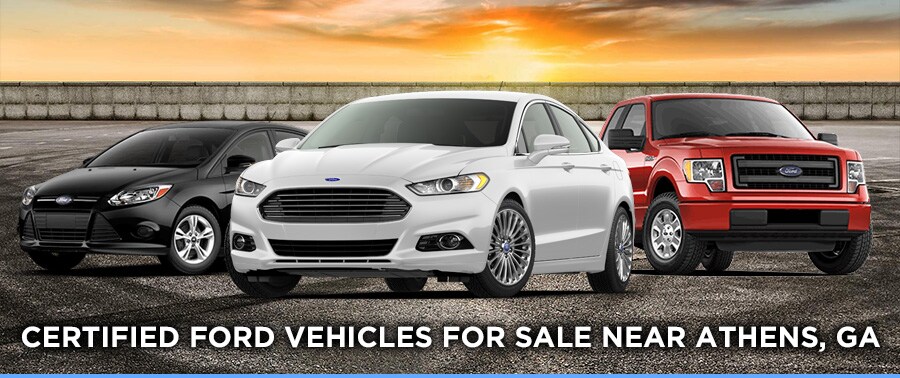 WARRANTY
N/A
60 days / 2,000 mi.
Powertrain Warranty
12-mo / 12,000 mi
Comprehensive &
7-yr / 100,000 mi.
Powertrain Limited Warranties
Includes a limited lifetime
Powertrain Warranty
MANUFACTURED
All Years
Within the last
9 years
Within the last
 5 years
Within the last
 4 years
MILES
No limit
Under 100,000 miles
Under 80,000 miles
Under 50,000 miles
POINT INSPECTION
Passed a strict
21-point inspection
Passed a strict
50-point inspection
Passed a strict
172-point inspection
Passed a strict
140-point inspection
CARFAX VEHICLE HISTORY REPORT & EVIDENCE MANUAL
Upon request
CONTAINS A SHOP REPORT & INSPECTION CHECKLIST
Upon request
BRANDS
All makes & models
All makes & models
Ford cars, SUVs, crossovers & trucks
(up to 350-Series)
Domestic & Asian brands only
If you want to head down the road in a Ford vehicle and enjoy all it offers, but desire a lower price than a brand-new car, consider buying a Certified Pre-Owned Ford vehicle from Athens Ford. If you choose to buy a Certified Pre-Owned Ford, you can choose from various Ford models, including cars, trucks, SUVs and more. All of our CPO Ford models are required to pass an extensive inspection process before they can earn the CPO label. This way you know that you're getting an excellent deal on our highest quality used cars. Enjoy the low pricing and high-quality of our CPO Ford vehicles and drive off happy!


Relax, it's covered.
It's Ford Certified. 
Only after passing a rigorous 172-point inspection is a pre-owned vehicle Ford certified, complete with limited warranty coverage and 24-Hour Roadside Assistance. Watch the video to learn more.
When you're looking at all the options you have, you'll be glad to know that you can save even more money when you shop certified, as Ford provides a wide variety of incentives for drivers like you. Regardless of model you want, whether it's a Ford Fusion or a Ford F-150, you'll find a quality vehicle at our
Ford dealership near Athens, GA
. Speak with one of our friendly and knowledgeable staff members today about our CPO Ford vehicles and learn more about the benefits you'll receive.
Benefits and Requirements of CPO Ford vehicles:
A used Ford must pass a 172-point inspection before it is declared certified pre-owned.
For a Ford to qualify as a certified pre-owned vehicle it must be less than six years old and have fewer than 80,000 miles on the odometer.

All Domestic or Asian vehicles that are eight years or newer and have fewer than 80,000 miles on the odometer qualify for our Lifetime Powertrain Warranty
You'll have peace of mind with a comprehensive limited warranty for 12 months/12,000 miles plus a seven-year/100,000-mile powertrain limited warranty.

You get a CarFax® vehicle history report with your purchase.
You have access to 24/7 roadside assistance for 6 years or until vehicle reaches 100,000 miles.